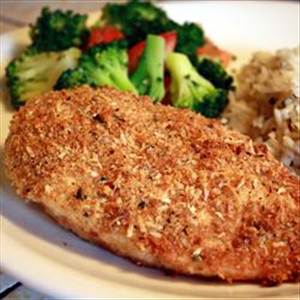 Garlic Baked Chicken
Awesome garlic chicken.
Servings: 4
Prep Time: 20 mins
Cook Time: 35 mins
Average Rating:
Ingredients
Directions
Preheat oven to 425 °F (220 °C).
Warm the garlic and olive oil to blend the flavors.
In a separate dish, combine the bread crumbs and Parmesan cheese.
Dip the chicken breasts in the olive oil and garlic mixture, then into the bread crumb mixture. Place in a shallow baking dish.
Bake in the preheated oven for 30-35 minutes, until no longer pink and juices run clear.
Nutrition summary
There are 348 calories in 1 serving of Garlic Baked Chicken.
Calorie split: 50% fat, 7% carbs, 43% protein.
Related Recipe Collections
Related Recipes
Spaghetti Squash Casserole
Low carb/keto meal using spaghetti squash.
Per serve - Energy: 504kcal | Carb: 13.15g | Prot: 33.20g | Fat: 34.33g
Chicken Cordon Blue
This yummy version adds paprika and a creamy white wine sauce worthy of its own blue ribbon. Two blue ribbon tastes in wedded bliss.
Per serve - Energy: 597kcal | Carb: 6.12g | Prot: 46.99g | Fat: 43.02g
Chicken Scampi
Low carb and gluten free.
Per serve - Energy: 547kcal | Carb: 7.58g | Prot: 30.00g | Fat: 43.00g
Bacon Wrapped Chicken
Chicken stuffed with avocado and salsa and wrapped in bacon.
Per serve - Energy: 315kcal | Carb: 3.00g | Prot: 35.25g | Fat: 17.96g