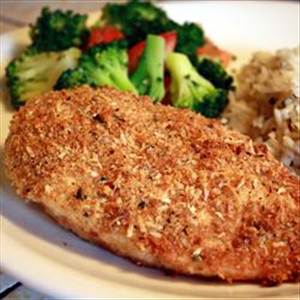 Garlic Baked Chicken
Awesome garlic chicken.
Servings: 4
Prep Time: 20 mins
Cook Time: 35 mins
Average Rating:
Ingredients
Directions
Preheat oven to 425 °F (220 °C).
Warm the garlic and olive oil to blend the flavors.
In a separate dish, combine the bread crumbs and Parmesan cheese.
Dip the chicken breasts in the olive oil and garlic mixture, then into the bread crumb mixture. Place in a shallow baking dish.
Bake in the preheated oven for 30-35 minutes, until no longer pink and juices run clear.
Nutrition summary
There are 348 calories in 1 serving of Garlic Baked Chicken.
Calorie split: 50% fat, 7% carbs, 43% protein.
Related Recipe Collections
Related Recipes
Indian Chicken Curry
A healthy and delicious version of Indian chicken curry.
Per serve - Energy: 191kcal | Carb: 6.13g | Prot: 28.47g | Fat: 5.28g
Apple and Thyme Chicken
A really delightful sweet chicken dish that the whole family will love.
Per serve - Energy: 168kcal | Carb: 5.37g | Prot: 27.42g | Fat: 3.26g
Lemon Pepper Chicken
Chicken breast sprinkled with lemon-pepper seasoning and fresh lemon juice.
Per serve - Energy: 106kcal | Carb: 8.21g | Prot: 17.27g | Fat: 1.09g
Chicken Ratatouille
Served over rice, this delicious dish is loaded with vegetables and skinless chicken breasts.
Per serve - Energy: 396kcal | Carb: 22.89g | Prot: 60.98g | Fat: 7.45g