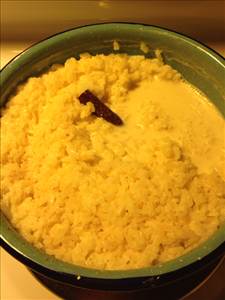 Arroz en Leche
White rice with milk.
Servings: 5
Prep Time: 2 mins
Cook Time: 30 mins
Average Rating:
Ingredients
Directions
Cook rice in water and cinnamon.
When soft add sweetened condensed milk.
Nutrition summary
There are 142 calories in 1 serving of Arroz en Leche.
Calorie split: 17% fat, 73% carbs, 9% protein.
Related Recipe Collections
Related Recipes
Quick Quiche
No crust quiche.
Per serve - Energy: 237kcal | Carb: 12.07g | Prot: 14.47g | Fat: 13.95g
Turkey Taco Skillet
One pot taco skillet.
Per serve - Energy: 196kcal | Carb: 37.09g | Prot: 8.36g | Fat: 2.84g
Mac N Cheese
Homemade macaroni and cheese.
Per serve - Energy: 313kcal | Carb: 32.93g | Prot: 14.23g | Fat: 13.55g
Hellman's Juicy Chicken Breast
Simple weeknight chicken breast that pairs perfectly with a side salad or California blend vegetables.
Per serve - Energy: 269kcal | Carb: 5.14g | Prot: 27.06g | Fat: 16.16g
Spicy Thai Peanut Chicken over Rice
This is a very tasty Asian-inspired dish made with chicken and broccoli in a spicy peanut sauce.
Per serve - Energy: 261kcal | Carb: 23.41g | Prot: 22.00g | Fat: 9.73g