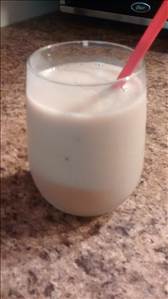 Banana Blast
Protein banana smoothie.
Servings: 2
Prep Time: 3 mins
Average Rating:
Ingredients
Directions
Place all ingredients in blender with a couple ice cubes. Blend until it's smooth.
Drink immediately or store in refrigerator. Drink within 48 hours or it will separate.
Nutrition summary
There are 199 calories in 1 serving of Banana Blast.
Calorie split: 9% fat, 62% carbs, 28% protein.
Related Recipe Collections
Related Recipes
Quick Quiche
No crust quiche.
Per serve - Energy: 237kcal | Carb: 12.07g | Prot: 14.47g | Fat: 13.95g
Mac N Cheese
Homemade macaroni and cheese.
Per serve - Energy: 313kcal | Carb: 32.93g | Prot: 14.23g | Fat: 13.55g
Vegan Smoothie
Nice and fruity vegan smoothie.
Per serve - Energy: 103kcal | Carb: 17.46g | Prot: 3.03g | Fat: 3.45g
Double Orange Pork Chops
Pan fried pork chops in orange glaze.
Per serve - Energy: 567kcal | Carb: 23.57g | Prot: 55.07g | Fat: 27.04g