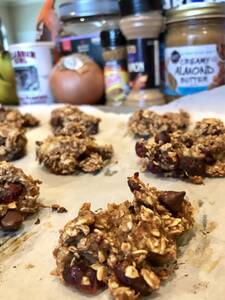 Banana Oatmeal Choc Chip Cookies
Healthy cookies.
Servings: 12
Prep Time: 5 mins
Cook Time: 15 mins
Whole Grain Banana Muffins
Healthy muffins with banana, flaxseed and whole wheat flour.
Per serve - Energy: 207kcal | Carb: 36.80g | Prot: 5.86g | Fat: 5.68g
Citrus Banana Slush
A refreshing frozen treat to replace ice cream.
Per serve - Energy: 169kcal | Carb: 41.90g | Prot: 2.27g | Fat: 0.65g
Banana Breakfast Smoothie
A smooth, filling start to the day.
Per serve - Energy: 322kcal | Carb: 62.08g | Prot: 15.72g | Fat: 2.59g
Blueberry Banana Crepes
With delicious ingredients wrapped in a warm soft crepe, this healthy recipe is great for breakfast or dessert.
Per serve - Energy: 436kcal | Carb: 74.50g | Prot: 10.55g | Fat: 11.12g
Low Fat Yogurt with Banana
Sweet and wholesome. Works well for breakfast, dessert or as a sweet treat.
Per serve - Energy: 248kcal | Carb: 42.93g | Prot: 13.21g | Fat: 3.91g