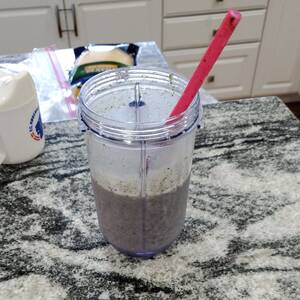 Ingredients
Directions
Add a yogurt and frozen blueberries, blend.
Add unsweetened almond milk and spinach, blend.
Add vanilla protein powder and 1/3 cup ice, blend.
Nutrition summary
There are 282 calories in 1 serving of Blue & Green Smoothie.
Calorie split: 26% fat, 24% carbs, 50% protein.
Related Recipe Collections
Related Recipes
Breakfast Smoothie III
Smoothie with frozen fruit and yogurt.
Per serve - Energy: 226kcal | Carb: 29.58g | Prot: 14.16g | Fat: 4.75g
Breakfast Smoothie II
A super nutritious antioxidant smoothie. Great for when you need a quick energy boost to get on your feet, and when a serious fiber boost is needed.
Per serve - Energy: 280kcal | Carb: 32.00g | Prot: 10.50g | Fat: 13.00g
Fruit & Nut Milkshake
If you like butter pecan ice cream then you'll love this recipe.
Per serve - Energy: 210kcal | Carb: 29.58g | Prot: 7.10g | Fat: 8.56g
Strawberry Soy Smoothie
This smoothie is filling and has low Weight Watchers points.
Per serve - Energy: 216kcal | Carb: 31.80g | Prot: 10.57g | Fat: 5.02g
Strawberry Protein Smoothie
A yummy protein drink using real strawberries
Per serve - Energy: 439kcal | Carb: 22.95g | Prot: 78.62g | Fat: 7.88g