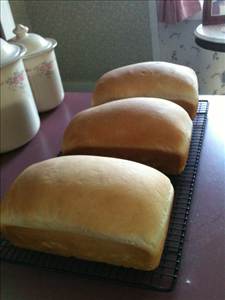 Bread
Homemade wheat bread
Servings: 16
Prep Time: 1 hr 30 mins
Cook Time: 30 mins
Average Rating:
Ingredients
Directions
In order, add to bread machine: water, salt, sugar, oil, flours, yeast. Mix on dough setting.
When risen to top (about 60 minutes), stop machine and shape into loaves for 3 greased medium loaf pans.
Put in cold oven. Set oven to bake at 350 °F (175 °C) with 30-35 minutes delayed start.
Nutrition summary
There are 206 calories in 1 serving of Bread.
Calorie split: 17% fat, 72% carbs, 11% protein.
Related Recipe Collections
Related Recipes
Simple White Bread
A easy to make white bread perfect with lunch or as a snack.
Per serve - Energy: 88kcal | Carb: 15.75g | Prot: 2.50g | Fat: 1.43g
Whole Wheat Walnut Bread
Delicious home made yeast bread.
Per serve - Energy: 85kcal | Carb: 13.16g | Prot: 2.93g | Fat: 2.63g
Banana Bread VI
A healthy go-to banana bread recipe.
Per serve - Energy: 205kcal | Carb: 40.04g | Prot: 5.26g | Fat: 3.42g
Zucchini Bread
This low fat and low calorie zucchini bread is a great homemade alternative to regular bread.
Per serve - Energy: 129kcal | Carb: 24.38g | Prot: 3.74g | Fat: 2.80g
Corn Muffins
Corn muffins made with low fat milk and without salt.
Per serve - Energy: 202kcal | Carb: 33.13g | Prot: 4.80g | Fat: 5.55g
Whole Wheat Bread
This recipe uses whole grain flour, is ok for Phases 2 and 3 of South Beach and also makes a decent pizza dough.
Per serve - Energy: 217kcal | Carb: 42.12g | Prot: 8.50g | Fat: 3.15g