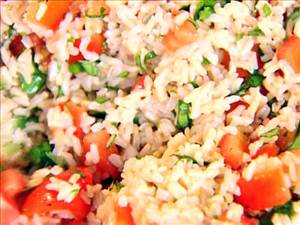 Brown Rice & Cherry Tomato Cooked Salad
Delicious and healthy.
Servings: 2
Prep Time: 5 mins
Cook Time: 15 mins
Average Rating:
Arugula Skirt Steak Salad
A salad of arugula steak and red onion.
Per serve - Energy: 468kcal | Carb: 12.36g | Prot: 30.44g | Fat: 32.64g
Turkey Slow Cooker Chili
Chili made with ground turkey in slow cooker.
Per serve - Energy: 362kcal | Carb: 34.94g | Prot: 26.58g | Fat: 13.06g
No Bean Turkey Chili
Chili with ground turkey and bell peppers.
Per serve - Energy: 299kcal | Carb: 26.24g | Prot: 30.58g | Fat: 9.13g
Spicy Thai Peanut Chicken over Rice
This is a very tasty Asian-inspired dish made with chicken and broccoli in a spicy peanut sauce.
Per serve - Energy: 261kcal | Carb: 23.41g | Prot: 22.00g | Fat: 9.73g
Fish Stew Brodetto
Broth based fish stew.
Per serve - Energy: 282kcal | Carb: 17.01g | Prot: 24.02g | Fat: 9.19g