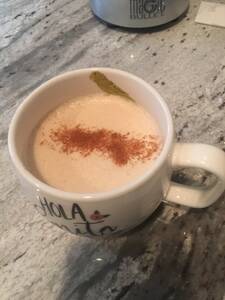 Butter Coffee
Self-explanatory.
Servings: 1
Prep Time: 1 min
Cook Time: 2 mins
Ingredients
Directions
Brew and blend.
Nutrition summary
There are 150 calories in 1 serving of Butter Coffee.
Calorie split: 97% fat, 2% carbs, 1% protein.
Related Recipe Collections
Related Recipes
Creamed Spinach
Delightful spinach with cream cheese, mushrooms, onion and monterey jack cheese.
Per serve - Energy: 260kcal | Carb: 5.35g | Prot: 7.94g | Fat: 24.03g
Sweet Sour Cream Sauce
A sauce that can be used in place of whipped cream.
Per serve - Energy: 88kcal | Carb: 6.26g | Prot: 1.99g | Fat: 6.01g
Cucumbers and Sour Cream
A yummy side dish with low carbs.
Per serve - Energy: 36kcal | Carb: 4.97g | Prot: 0.99g | Fat: 1.43g
Instant Cream of Tomato Soup
I know this sounds weird, but it is delicious.
Per serve - Energy: 134kcal | Carb: 19.35g | Prot: 5.41g | Fat: 4.25g
Jelly & Cream Dessert
A lovely carb friendly dessert that is easy to make and so nice!
Per serve - Energy: 141kcal | Carb: 8.42g | Prot: 1.95g | Fat: 12.40g
Almost Cheesecake
Grahm cracker topped with fat free strawberry cream cheese fresh blueberries and drizzle of honey.
Per serve - Energy: 158kcal | Carb: 31.66g | Prot: 5.22g | Fat: 1.84g