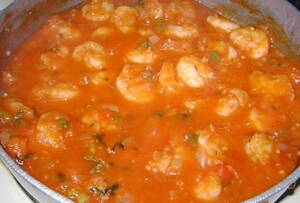 Cajun Shrimp Soup
A hearty, spicy soup.
Servings: 6
Average Rating:
Ingredients
Directions
Sauté peppers, onions, and garlic in melted butter over medium heat until tender. About 6 minutes.
Add V-8 juice, water, and seasonings and bring to a boil.
Stir in the rice, beans and reduce to a simmer. Simmer, covered, for 18 minutes.
Add shrimp (deveined, tails removed and cut into two pieces) and cook for 6 minutes.
Nutrition summary
There are 369 calories in 1 serving of Cajun Shrimp Soup.
Calorie split: 16% fat, 52% carbs, 33% protein.
Related Recipe Collections
Related Recipes
Seafood Salad
Shrimp and crab salad suitable for mixing with pasta, on roll or crackers. Can also be used as a dip.
Per serve - Energy: 161kcal | Carb: 6.17g | Prot: 8.05g | Fat: 11.23g
Crab Dip
Hot homemade crab dip.
Per serve - Energy: 230kcal | Carb: 2.19g | Prot: 14.48g | Fat: 18.15g
Angel Hair with Shrimp
A pasta dish made with vegetables, shrimp and angel hair pasta, sliced almonds with marinara sauce.
Per serve - Energy: 372kcal | Carb: 49.46g | Prot: 14.74g | Fat: 10.94g
Crab Salad III
Imitation crab salad.
Per serve - Energy: 96kcal | Carb: 8.38g | Prot: 2.71g | Fat: 5.34g
Shrimp & Cheese Salad
Healthy low fat shrimp salad.
Per serve - Energy: 175kcal | Carb: 7.18g | Prot: 11.92g | Fat: 10.98g