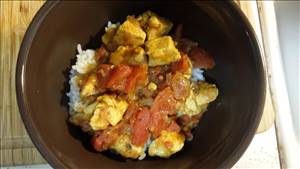 Chicken Masala
A nice masala curry.
Servings: 8
Prep Time: 30 mins
Cook Time: 1 hr
Average Rating:
Ingredients
Directions
Coarsely chop the red onion. Mince the garlic and ginger. Cut up chicken breasts into 1" cubes.
In a heavy skillet over medium heat, melt the ghee. Brown the cumin and mustard for about a minute, stirring to keep from burning.
Add the red onion to the skillet with 1 olive oil. Saute for 2 minutes.
Add the ginger and garlic to the skillet and reduce the heat to medium-low. Continue to saute until the onions turn dark purple, 5-10 minutes.
Add the tomatoes. Simmer until the liquid is reduced by about a quarter 15-20 minutes. Add salt and pepper to taste.
Turn the heat back up to medium and add the raw chicken. Continue cooking until chicken is about half cooked 5-10 minutes, then reduce the heat back to medium-low.
Add the garam masala, chili power and turmeric. Simmer until the oil separates and the sauce is the consistency you desire.
Serve with rice or boiled potatoes and warm naan.
Nutrition summary
There are 126 calories in 1 serving of Chicken Masala.
Calorie split: 44% fat, 10% carbs, 46% protein.
Related Recipe Collections
Related Recipes
Arugula Skirt Steak Salad
A salad of arugula steak and red onion.
Per serve - Energy: 468kcal | Carb: 12.36g | Prot: 30.44g | Fat: 32.64g
Spicy Thai Peanut Chicken over Rice
This is a very tasty Asian-inspired dish made with chicken and broccoli in a spicy peanut sauce.
Per serve - Energy: 261kcal | Carb: 23.41g | Prot: 22.00g | Fat: 9.73g
Chicken Chardon
A low carb chicken recipe.
Per serve - Energy: 448kcal | Carb: 4.75g | Prot: 38.56g | Fat: 31.79g
Chicken Scampi
Low carb and gluten free.
Per serve - Energy: 547kcal | Carb: 7.58g | Prot: 30.00g | Fat: 43.00g