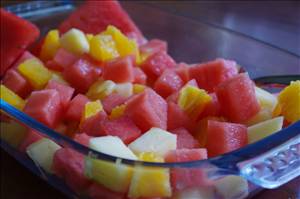 Chili Fruit Salad
Fruit salad with a kick.
Servings: 1
Prep Time: 5 mins
Average Rating:
Ingredients
Directions
Chop all the fruit
Combine in a bowl and mix well.
Sprinkle in your herbs and spices!
Nutrition summary
There are 317 calories in 1 serving of Chili Fruit Salad.
Calorie split: 6% fat, 90% carbs, 4% protein.
Related Recipe Collections
Related Recipes
Tomato Salad
Juicy tomato salad with cucumbers and onions.
Per serve - Energy: 306kcal | Carb: 61.50g | Prot: 12.61g | Fat: 2.89g
Salsa Eggs
My favorite eggs, yummy and simple.
Per serve - Energy: 120kcal | Carb: 12.40g | Prot: 16.90g | Fat: 1.47g
Spicy Coleslaw
Spicy and low fat coleslaw.
Per serve - Energy: 133kcal | Carb: 27.35g | Prot: 7.83g | Fat: 1.61g
Carrot, Celery and Apple Juice
A yummy juice packed with vitamins and low on points.
Per serve - Energy: 341kcal | Carb: 86.07g | Prot: 4.63g | Fat: 1.61g
Chinese Cabbage Rolls
Yummy stir fry veggies and rice rolled up in a tender cabbage leaf!
Per serve - Energy: 344kcal | Carb: 76.46g | Prot: 9.34g | Fat: 2.24g