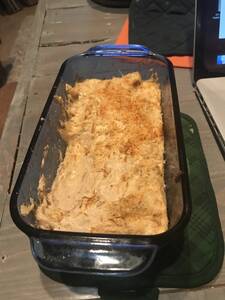 Crab Dip
Hot homemade crab dip.
Servings: 8
Prep Time: 10 mins
Cook Time: 15 mins
Ingredients
Directions
Preheat oven to 350 °F (175 °C).
Blend softened cream cheese, mayonnaise, crab, and 1/2 cup Parmesan cheese. Add old bay/Cajun seasoning/smoked paprika to taste.
Place in greased baking dish.
Bake for 10 minutes.
Top with remaining Parmesan cheese.
Return to oven until cheese is melted (approximately 5 minutes).
Nutrition summary
There are 230 calories in 1 serving of Crab Dip.
Calorie split: 71% fat, 4% carbs, 25% protein.
Related Recipe Collections
Related Recipes
Brie Pizza aka Briezza
This is an easy light and flavorful pizza with brie cheese, green apples, and no red sauce.
Per serve - Energy: 451kcal | Carb: 34.27g | Prot: 24.14g | Fat: 21.79g
Crab Salad
An easy to make and yummy crab salad.
Per serve - Energy: 103kcal | Carb: 6.82g | Prot: 14.56g | Fat: 1.84g
Crab Soup
A sophisticated low carb seafood soup.
Per serve - Energy: 333kcal | Carb: 32.44g | Prot: 37.65g | Fat: 5.39g
Crab Cakes
Yummy golden brown crab cakes.
Per serve - Energy: 379kcal | Carb: 58.03g | Prot: 21.42g | Fat: 6.44g
Maryland Crab Soup
This special crab soup is really good and tasty.
Per serve - Energy: 123kcal | Carb: 18.10g | Prot: 12.00g | Fat: 1.25g
Crab Salad Tomato Bowl
Super easy cold crab salad.
Per serve - Energy: 116kcal | Carb: 8.57g | Prot: 8.72g | Fat: 5.76g