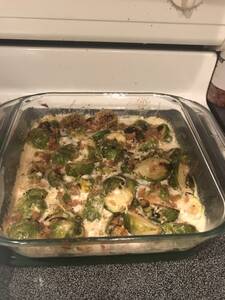 Creamed Brussels Sprouts
A rich creamy side dish.
Servings: 4
Prep Time: 10 mins
Cook Time: 40 mins
Ingredients
Directions
Preheat oven to 350 °F (175 °C).
Heat ghee in a medium skillet over medium-high heat. Add garlic and sauté for 3 minutes. Add Brussels sprouts and continue to sauté until fork tender, about 5 minutes.
Transfer sprouts, garlic and melted butter to 9x9" baking dish. Add cream, Parmesan cheese, salt and pepper. Sprinkle pork rinds evenly over the top.
Cover and bake for 30 minutes. Serve hot.
Nutrition summary
There are 353 calories in 1 serving of Creamed Brussels Sprouts.
Calorie split: 80% fat, 6% carbs, 14% protein.
Related Recipe Collections
Related Recipes
Cauliflower Soup II
Cauliflower soup with turkey bacon and cheddar cheese.
Per serve - Energy: 211kcal | Carb: 18.58g | Prot: 10.73g | Fat: 12.33g
Crockpot Turkey with Herb Vegetable Sauce
A simple turkey breast made juicy and tender in the crockpot with flavorings from cream cheese, vegetables and herbs.
Per serve - Energy: 201kcal | Carb: 8.35g | Prot: 25.11g | Fat: 7.06g
Sausage Frittata II
A tasty hot sausage frittata, perfect for any time of the day.
Per serve - Energy: 270kcal | Carb: 1.79g | Prot: 14.60g | Fat: 21.88g
Mushroom Quiche
A tasty mushroom quiche perfect breakfast, lunch or even brunch!
Per serve - Energy: 301kcal | Carb: 4.32g | Prot: 12.85g | Fat: 26.23g