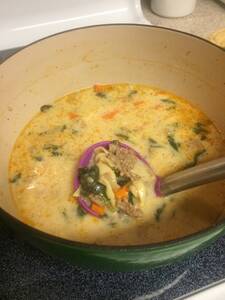 Creamy Tortellini & Sausage Soup
Name says it all.
Servings: 8
Prep Time: 30 mins
Cook Time: 30 mins
Cheese Stuffed Turkey Meatloaf
Anyway, you're a turkey if you don't go home and make this mozzarella stuffed turkey meatloaf for dinner.
Per serve - Energy: 215kcal | Carb: 10.20g | Prot: 22.92g | Fat: 9.31g
Egg Sausage Bake
A tasty way to have eggs and sausage ready to go in the morning.
Per serve - Energy: 262kcal | Carb: 5.24g | Prot: 16.50g | Fat: 19.32g
Sausage Frittata II
A tasty hot sausage frittata, perfect for any time of the day.
Per serve - Energy: 270kcal | Carb: 1.79g | Prot: 14.60g | Fat: 21.88g
Sausage and Artichoke Pasta
A creamy pasta dish using sausages and artichokes.
Per serve - Energy: 316kcal | Carb: 40.26g | Prot: 15.45g | Fat: 11.81g