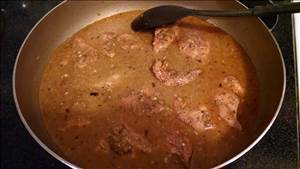 Mild Creamy Chicken Curry
A gently spiced curry.
Servings: 5
Prep Time: 15 mins
Cook Time: 40 mins
Average Rating:
Spicy Thai Peanut Chicken over Rice
This is a very tasty Asian-inspired dish made with chicken and broccoli in a spicy peanut sauce.
Per serve - Energy: 261kcal | Carb: 23.41g | Prot: 22.00g | Fat: 9.73g
Cheeseburger Casserole III
Casserole that uses meat, bacon, eggs, heavy cream and of course cheese.
Per serve - Energy: 816kcal | Carb: 7.33g | Prot: 43.93g | Fat: 68.33g
Chicken Scampi
Low carb and gluten free.
Per serve - Energy: 547kcal | Carb: 7.58g | Prot: 30.00g | Fat: 43.00g