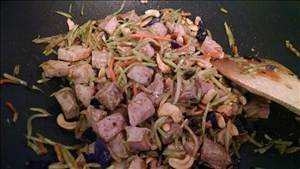 Moo Shu Pork
Quick, easy and yummy.
Servings: 6
Prep Time: 5 mins
Cook Time: 15 mins
Average Rating:
Ingredients
Directions
Heat oil in a large, nonstick frying pan or wok over medium-high heat. Add ginger powder and stir for 1 minute.
Add the broccoli slaw to the pan, and turn up the heat a little. Stir-fry the vegetables for 4 to 5 minutes. Cook them long enough to darken in color without losing their crunchiness.
Turn the heat down to medium, and stir in the pork, soy sauce, hoisin sauce, red pepper flakes and cashews. Continue cooking moo shu for another 2 minutes to heat through. Serve over rice.
Nutrition summary
There are 236 calories in 1 serving of Moo Shu Pork.
Calorie split: 37% fat, 36% carbs, 27% protein.
Related Recipe Collections
Related Recipes
Italian Cabbage
A great side dish or lunch option.
Per serve - Energy: 218kcal | Carb: 11.30g | Prot: 12.05g | Fat: 13.16g
Stuffed Jalapenos
Peppers filled with cheese wrapped in bacon.
Per serve - Energy: 111kcal | Carb: 1.08g | Prot: 3.79g | Fat: 10.35g
Quick Quiche
No crust quiche.
Per serve - Energy: 237kcal | Carb: 12.07g | Prot: 14.47g | Fat: 13.95g
Crustless Quiche Muffins
Made with sliced ham or turkey as the crust. Meat and veggies can be exchanged as desired and Tabasco can be hotter or not.
Per serve - Energy: 106kcal | Carb: 1.16g | Prot: 10.17g | Fat: 6.50g