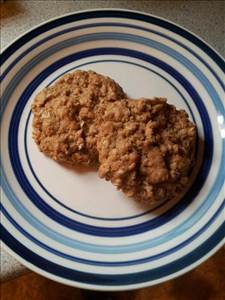 Oatmeal Cookies II
Chewy oatmeal cookies.
Servings: 18
Prep Time: 10 mins
Cook Time: 12 mins
Average Rating:
Ingredients
Directions
Preheat oven to 350 °F (175 °C).
Mix butter, sugar and molasses until creamy.
Add the egg and vanilla and mix until creamy.
Add combined flour, baking soda, cinnamon and salt.
Add oats.
Drop small balls of dough onto ungreased cookie sheet.
Bake for 12 minutes or until light golden brown.
Nutrition summary
There are 99 calories in 1 serving of Oatmeal Cookies II.
Calorie split: 30% fat, 63% carbs, 7% protein.
Related Recipe Collections
Related Recipes
Chocolate Cookies
Low carb chocolate cookies for Atkins or ketogenic diets.
Per serve - Energy: 51kcal | Carb: 3.28g | Prot: 2.26g | Fat: 4.04g
Pumpkin Oatmeal Cookies
Sensational oatmeal cookies with pumpkin and blueberries.
Per serve - Energy: 42kcal | Carb: 8.15g | Prot: 1.52g | Fat: 0.65g
Flax Cookies
Kids will not even think about chocolate chips after biting into these tasty yet nutritious cookies.
Per serve - Energy: 77kcal | Carb: 9.49g | Prot: 1.51g | Fat: 3.84g
Low Carb Peanut Butter Cookies
Flourless peanut butter cookies make a great treat.
Per serve - Energy: 92kcal | Carb: 3.65g | Prot: 3.95g | Fat: 7.50g