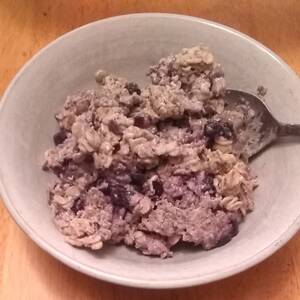 Ingredients
Directions
Add dry ingredients to mason jar or other container.
Add fruit, honey, and almond butter.
Add milk and stir or shake to mix thoroughly.
Nutrition summary
There are 603 calories in 1 serving of Overnight Nutty Oats.
Calorie split: 47% fat, 42% carbs, 11% protein.
Related Recipe Collections
Related Recipes
Pumpkin Oatmeal Cookies
Sensational oatmeal cookies with pumpkin and blueberries.
Per serve - Energy: 42kcal | Carb: 8.15g | Prot: 1.52g | Fat: 0.65g
Blueberry Smoothie
Simple and delicious blueberry smoothie made in a blender.
Per serve - Energy: 295kcal | Carb: 68.96g | Prot: 8.24g | Fat: 0.74g
Mixed Fruit Yogurt Smoothie
Really yummy blueberry, apple, orange, banana and yogurt smoothie.
Per serve - Energy: 125kcal | Carb: 25.52g | Prot: 3.01g | Fat: 2.20g
Breakfast Parfait
Creates a visually stunning, delicious and healthy breakfast.
Per serve - Energy: 340kcal | Carb: 72.08g | Prot: 12.13g | Fat: 3.52g
Blueberry Banana Crepes
With delicious ingredients wrapped in a warm soft crepe, this healthy recipe is great for breakfast or dessert.
Per serve - Energy: 437kcal | Carb: 74.50g | Prot: 10.56g | Fat: 11.12g