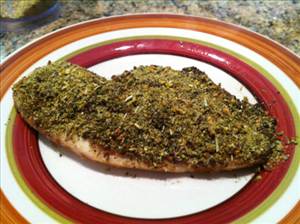 Pistachio Encrusted Tilapia
Nutty deliciousness.
Servings: 1
Prep Time: 20 mins
Cook Time: 17 mins
Average Rating:
Seafood Salad
Shrimp and crab salad suitable for mixing with pasta, on roll or crackers. Can also be used as a dip.
Per serve - Energy: 161kcal | Carb: 6.17g | Prot: 8.05g | Fat: 11.23g
Salmon Cobb Salad
Fish makes this super easy cobb salad.
Per serve - Energy: 334kcal | Carb: 9.32g | Prot: 31.60g | Fat: 18.91g
Spicy Tuna Salad II
Tuna salad with Chile Serrano.
Per serve - Energy: 124kcal | Carb: 1.93g | Prot: 24.49g | Fat: 1.02g
Fish Stew Brodetto
Broth based fish stew.
Per serve - Energy: 282kcal | Carb: 17.01g | Prot: 24.02g | Fat: 9.19g