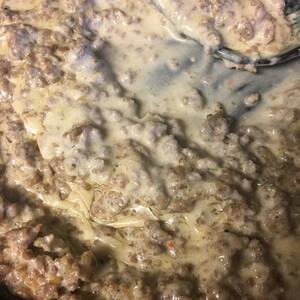 Sausage Gravy
Gravy for biscuits.
Servings: 8
Prep Time: 5 mins
Cook Time: 10 mins
Ingredients
Directions
Cook sausage.
When cooked, add in cream cheese and heavy cream.
Stir until cheese is melted and ingredients are combined.
Serve over biscuits.
Nutrition summary
There are 491 calories in 1 serving of Sausage Gravy.
Calorie split: 73% fat, 3% carbs, 24% protein.
Related Recipe Collections
Related Recipes
Bacon, Egg & Cheese Frittata
Easy peasy, delicious bacon, egg and cheese frittata.
Per serve - Energy: 302kcal | Carb: 13.89g | Prot: 28.35g | Fat: 14.95g
Chicken & Bacon Veggie Soup
A low carb soup with the deliciousness of chicken and bacon.
Per serve - Energy: 322kcal | Carb: 3.76g | Prot: 15.14g | Fat: 25.23g
Sausage Frittata II
A tasty hot sausage frittata, perfect for any time of the day.
Per serve - Energy: 270kcal | Carb: 1.79g | Prot: 14.60g | Fat: 21.88g
Ham & Pepperoni Pizza
Low carb pizza that can be topped with your favorite toppings.
Per serve - Energy: 321kcal | Carb: 5.20g | Prot: 23.37g | Fat: 22.46g
Cheesy Ham Roll-ups
Ham, cream cheese and veggie roll-ups for lunch or a snack.
Per serve - Energy: 283kcal | Carb: 14.83g | Prot: 11.68g | Fat: 20.39g
Cheese & Ham Toastie
Grilled wholemeal pita bread filled cheddar cheese and sliced ham.
Per serve - Energy: 288kcal | Carb: 39.48g | Prot: 18.81g | Fat: 7.09g