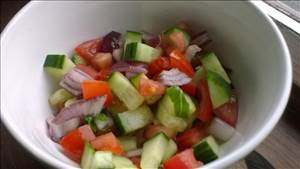 Shirazi Salad
A fresh Iranian salad.
Servings: 2
Prep Time: 20 mins
Average Rating:
Ingredients
Directions
Dice tomatoes, cucumber and onion. Add mint, salt and pepper.
Leave for 20 minutes in the fridge.
Add lime juice. Leave for 1 hour in the fridge.
Nutrition summary
There are 68 calories in 1 serving of Shirazi Salad.
Calorie split: 6% fat, 81% carbs, 13% protein.
Related Recipe Collections
Related Recipes
Arugula Skirt Steak Salad
A salad of arugula steak and red onion.
Per serve - Energy: 468kcal | Carb: 12.36g | Prot: 30.44g | Fat: 32.64g
Cucumber Salad
Cucumber, red onion, oil and vinegar salad.
Per serve - Energy: 114kcal | Carb: 4.92g | Prot: 1.00g | Fat: 10.37g
Spicy Tuna Salad II
Tuna salad with Chile Serrano.
Per serve - Energy: 124kcal | Carb: 1.93g | Prot: 24.49g | Fat: 1.02g
Turkey Slow Cooker Chili
Chili made with ground turkey in slow cooker.
Per serve - Energy: 362kcal | Carb: 34.94g | Prot: 26.58g | Fat: 13.06g
No Bean Turkey Chili
Chili with ground turkey and bell peppers.
Per serve - Energy: 299kcal | Carb: 26.24g | Prot: 30.58g | Fat: 9.13g
Fish Stew Brodetto
Broth based fish stew.
Per serve - Energy: 282kcal | Carb: 17.01g | Prot: 24.02g | Fat: 9.19g