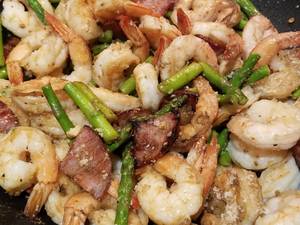 Shrimp & Asparagus with Bacon & Parmesan
A hit with the family.
Servings: 5
Prep Time: 10 mins
Cook Time: 20 mins
Average Rating:
Seafood Chowder
Fat free half & half helps to keep the calories down.
Per serve - Energy: 392kcal | Carb: 35.89g | Prot: 32.12g | Fat: 12.83g
Garlic Prawns
Delicious prawn recipe which is quick to make.
Per serve - Energy: 271kcal | Carb: 2.61g | Prot: 25.80g | Fat: 17.08g
Garlic Shrimp and Couscous
For dinner in a hurry that everyone will love that's satisfying with a salad or vegetables on the side.
Per serve - Energy: 367kcal | Carb: 45.74g | Prot: 30.51g | Fat: 5.75g