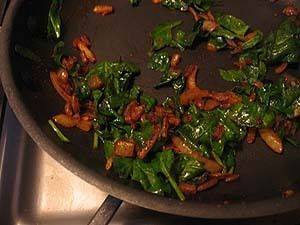 Spicy Spinach and Shallots
Spinach with a kick.
Servings: 1
Prep Time: 3 mins
Cook Time: 8 mins
Average Rating:
Spinach & Mushroom Eggs
Eggs with frozen spinach and mushrooms.
Per serve - Energy: 102kcal | Carb: 2.61g | Prot: 7.40g | Fat: 7.07g
Healthy Shamrock Shake
A low carb version of your favorite McDonald's shake.
Per serve - Energy: 326kcal | Carb: 18.58g | Prot: 29.51g | Fat: 17.99g
Breakfast Smoothie IV
Smoothie with matcha, strawberry, pineapple, spinach and mango.
Per serve - Energy: 280kcal | Carb: 63.23g | Prot: 11.06g | Fat: 0.00g
Spinach & Feta Frittata
Egg frittatas are always a delicious breakfast option.
Per serve - Energy: 68kcal | Carb: 2.30g | Prot: 11.25g | Fat: 0.93g