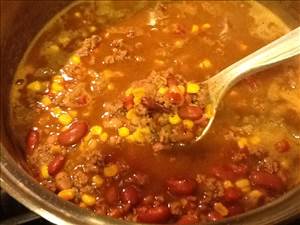 Taco Soupyt
Easy taco soup.
Servings: 13
Prep Time: 5 mins
Cook Time: 30 mins
Average Rating:
Ingredients
Directions
Brown onion and meat together.
Mix all other ingredients.
Add water and simmer.
Nutrition summary
There are 192 calories in 1 serving of Taco Soupyt.
Calorie split: 33% fat, 39% carbs, 27% protein.
Related Recipe Collections
Related Recipes
Arugula Skirt Steak Salad
A salad of arugula steak and red onion.
Per serve - Energy: 468kcal | Carb: 12.36g | Prot: 30.44g | Fat: 32.64g
Lean Meatloaf
Use lean 93/7 hamburger mince.
Per serve - Energy: 206kcal | Carb: 14.14g | Prot: 19.67g | Fat: 7.72g
Cheeseburger Casserole III
Casserole that uses meat, bacon, eggs, heavy cream and of course cheese.
Per serve - Energy: 816kcal | Carb: 7.33g | Prot: 43.93g | Fat: 68.33g
Taco Tuesday
Having a preschooler means taco Tuesdays are in demand.
Per serve - Energy: 688kcal | Carb: 73.53g | Prot: 32.42g | Fat: 31.34g
Paleo Crockpot Chili
Simple one pot chili.
Per serve - Energy: 243kcal | Carb: 22.15g | Prot: 14.64g | Fat: 11.05g
Spaghetti Squash Casserole
Low carb/keto meal using spaghetti squash.
Per serve - Energy: 504kcal | Carb: 13.15g | Prot: 33.20g | Fat: 34.33g