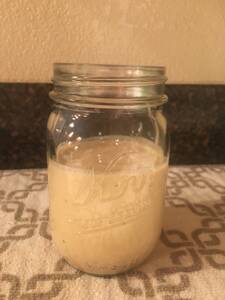 Ingredients
Directions
Mix all ingredients together until smooth and creamy.
Drizzle over salad and enjoy.
Nutrition summary
There are 237 calories in 1 serving of Tahini Dressing.
Calorie split: 61% fat, 29% carbs, 10% protein.
Related Recipe Collections
Related Recipes
Honey Mustard Dressing
A homemade Dijon honey mustard dressing and dipping sauce.
Per serve - Energy: 56kcal | Carb: 7.16g | Prot: 0.32g | Fat: 3.30g
Coconut Ranch Dressing
Great as a salad dressing or dip for raw veggies.
Per serve - Energy: 86kcal | Carb: 4.01g | Prot: 0.45g | Fat: 7.92g
Strawberry Vinaigrette
Easy to prepare vinaigrette.
Per serve - Energy: 127kcal | Carb: 1.72g | Prot: 0.09g | Fat: 13.55g
Lemon Mustard Dressing
Delicious dressing for any salad.
Per serve - Energy: 133kcal | Carb: 3.11g | Prot: 0.48g | Fat: 13.85g
Honey Balsamic Reduction
A reduction made with honey instead of white sugar.
Per serve - Energy: 13kcal | Carb: 2.89g | Prot: 0.01g | Fat: 0.00g