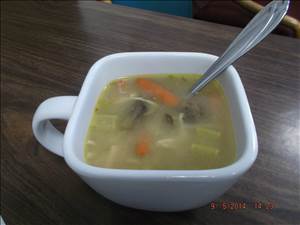 Turkey Barley Soup
A low calorie soup.
Servings: 6
Prep Time: 10 mins
Cook Time: 4 hrs
Average Rating:
Ingredients
Directions
Mix all ingredients in a crock-pot.
Let simmer for 4-6 hours or until vegetables are tender.
Note: add some fresh herbs and spices to give additional flavor.
Nutrition summary
There are 288 calories in 1 serving of Turkey Barley Soup.
Calorie split: 6% fat, 18% carbs, 76% protein.
Related Recipe Collections
Related Recipes
Arugula Skirt Steak Salad
A salad of arugula steak and red onion.
Per serve - Energy: 468kcal | Carb: 12.36g | Prot: 30.44g | Fat: 32.64g
Turkey Slow Cooker Chili
Chili made with ground turkey in slow cooker.
Per serve - Energy: 362kcal | Carb: 34.94g | Prot: 26.58g | Fat: 13.06g
No Bean Turkey Chili
Chili with ground turkey and bell peppers.
Per serve - Energy: 299kcal | Carb: 26.24g | Prot: 30.58g | Fat: 9.13g
Pizza Pasta
Rigatoni with pizza toppings.
Per serve - Energy: 423kcal | Carb: 66.27g | Prot: 22.16g | Fat: 9.26g
Taco Tuesday
Having a preschooler means taco Tuesdays are in demand.
Per serve - Energy: 688kcal | Carb: 73.53g | Prot: 32.42g | Fat: 31.34g