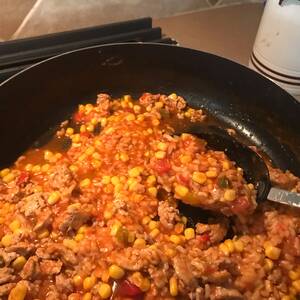 Turkey Taco Skillet
One pot taco skillet.
Servings: 6
Prep Time: 10 mins
Cook Time: 25 mins
Average Rating:
Ingredients
Directions
Brown turkey meat.
Add ingredients and bring to a boil.
Boil for 5 minutes.
Turn off heat and simmer for 15 minutes or until liquid is gone.
Nutrition summary
There are 196 calories in 1 serving of Turkey Taco Skillet.
Calorie split: 12% fat, 72% carbs, 16% protein.
Related Recipe Collections
Related Recipes
Cheese Stuffed Turkey Meatloaf
Anyway, you're a turkey if you don't go home and make this mozzarella stuffed turkey meatloaf for dinner.
Per serve - Energy: 215kcal | Carb: 10.20g | Prot: 22.92g | Fat: 9.31g
Mushroom Stuffed Turkey Burger
Flavorful, quick and easy turkey burgers, perfect for mushroom lovers.
Per serve - Energy: 205kcal | Carb: 7.16g | Prot: 21.38g | Fat: 9.91g
Turkey Lasagna
Using low-fat mozzarella and ricotta cheese, this tastes wonderful.
Per serve - Energy: 282kcal | Carb: 26.15g | Prot: 24.67g | Fat: 9.12g
Turkey Cabbage Rolls
Short cut cabbage rolls without the rice.
Per serve - Energy: 516kcal | Carb: 33.90g | Prot: 39.27g | Fat: 24.42g
Turkey and Cheese Stuffed Pepper
Baked red bell pepper stuffed with ground turkey and cheese. You can use beef as well.
Per serve - Energy: 305kcal | Carb: 7.43g | Prot: 27.91g | Fat: 18.28g