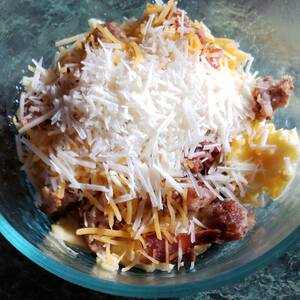 Breakfast Bowl with Eggs, Cheese, Bacon & Sausage
Keto and low carb.
Servings: 6
Prep Time: 15 mins
Cook Time: 30 mins
Bacon, Egg & Cheese Frittata
Easy peasy, delicious bacon, egg and cheese frittata.
Per serve - Energy: 302kcal | Carb: 13.89g | Prot: 28.35g | Fat: 14.95g
Pizza Frittata
Frittata with sausage, pepperoni, eggs, heavy cream, and tomato.
Per serve - Energy: 119kcal | Carb: 2.37g | Prot: 8.00g | Fat: 8.47g
Chicken & Bacon Veggie Soup
A low carb soup with the deliciousness of chicken and bacon.
Per serve - Energy: 322kcal | Carb: 3.76g | Prot: 15.14g | Fat: 25.23g
Sausage Frittata II
A tasty hot sausage frittata, perfect for any time of the day.
Per serve - Energy: 270kcal | Carb: 1.79g | Prot: 14.60g | Fat: 21.88g
Sausage Cheese Balls
Wonderful as a snack.
Per serve - Energy: 183kcal | Carb: 0.15g | Prot: 9.66g | Fat: 15.78g