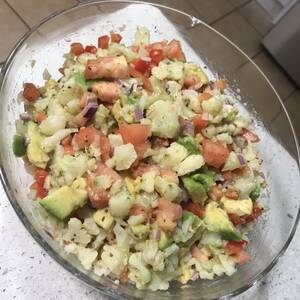 Ingredients
Directions
Cook florets from one whole fresh cauliflower for 2-3 minutes. Drain and let it cool down.
Add chopped red bell pepper, red onion and tomatoes.
Add olive oil, lemon juice, salt, oregano and cilantro.
Mix.
Finally, add avocado chunks.
Leave it to cool down in refrigerator.
Nutrition summary
There are 132 calories in 1 serving of Cauliflower Ceviche.
Calorie split: 68% fat, 25% carbs, 7% protein.
Related Recipe Collections
Related Recipes
Guacamole III
This recipe uses all fresh ingredients.
Per serve - Energy: 61kcal | Carb: 4.66g | Prot: 0.90g | Fat: 4.96g
Gazpacho
This medley of vegetables goes well with anything, is delicious and has almost no calories! It is a great way to enjoy eating your vegetables!
Per serve - Energy: 22kcal | Carb: 4.27g | Prot: 0.60g | Fat: 0.06g
Mango Black Bean Salsa
A quick and easy salsa, a great accompaniment grilled chicken.
Per serve - Energy: 233kcal | Carb: 30.26g | Prot: 8.25g | Fat: 9.66g
Brown Rice and Bell Pepper Salad
Brown rice and a variety of bell peppers come together with a creamy sauce to make a perfect summer dish to take on a picnic.
Per serve - Energy: 163kcal | Carb: 24.11g | Prot: 3.76g | Fat: 5.43g
Veggie Ratatouille
A delicious dish full of wholesome vegetables.
Per serve - Energy: 110kcal | Carb: 24.17g | Prot: 4.89g | Fat: 0.71g