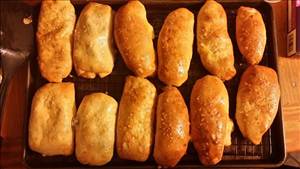 Chicken, Bacon, Ranch Pretzel Logs
Pretzels with filling.
Servings: 12
Prep Time: 45 mins
Cook Time: 10 mins
Average Rating:
Stuffed Jalapenos
Peppers filled with cheese wrapped in bacon.
Per serve - Energy: 111kcal | Carb: 1.08g | Prot: 3.79g | Fat: 10.35g
Quick Quiche
No crust quiche.
Per serve - Energy: 237kcal | Carb: 12.07g | Prot: 14.47g | Fat: 13.95g
Chicken Cordon Bleu Casserole
Just like the real thing only creamier and not fried.
Per serve - Energy: 216kcal | Carb: 6.50g | Prot: 19.39g | Fat: 12.44g
Loaded Cauliflower
Low calorie loaded "potato".
Per serve - Energy: 197kcal | Carb: 12.96g | Prot: 11.44g | Fat: 12.48g
Spaghetti Squash Casserole
Low carb/keto meal using spaghetti squash.
Per serve - Energy: 504kcal | Carb: 13.15g | Prot: 33.20g | Fat: 34.33g