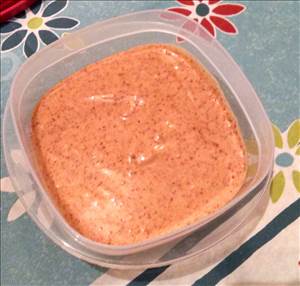 Chili Lime Sauce
A spiced mayonnaise.
Servings: 6
Prep Time: 5 mins
Cook Time: 20 mins
Average Rating:
Ingredients
Directions
Whisk all ingredients together and refrigerate until ready to use.
Nutrition summary
There are 46 calories in 1 serving of Chili Lime Sauce.
Calorie split: 77% fat, 22% carbs, 2% protein.
Related Recipe Collections
Related Recipes
Cilantro Lime Dressing
A tasty dressing to add to your salad.
Per serve - Energy: 63kcal | Carb: 1.41g | Prot: 0.41g | Fat: 6.56g
Guacamole III
This recipe uses all fresh ingredients.
Per serve - Energy: 61kcal | Carb: 4.66g | Prot: 0.90g | Fat: 4.96g
Broccoli Rabe Pesto
Delicious tossed in hot cooked pasta.
Per serve - Energy: 78kcal | Carb: 1.67g | Prot: 2.10g | Fat: 7.32g
Parsley Olive Relish
Bursting with olive flavor this spread or dip is great on any type of meat or fish and even just on a crusty piece of bread.
Per serve - Energy: 36kcal | Carb: 2.55g | Prot: 0.48g | Fat: 2.98g
Avocado Ranch Spread
A tasty alternative to mayonnaise that's great in a lettuce wrap and on a turkey burger.
Per serve - Energy: 57kcal | Carb: 3.36g | Prot: 0.58g | Fat: 4.98g
Edamame Hummus
Goes great with vegetables or pita bread.
Per serve - Energy: 85kcal | Carb: 3.85g | Prot: 3.79g | Fat: 6.52g