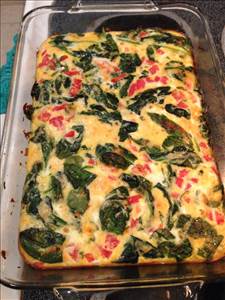 Spinach & Mozzarella Egg Bake
Low carb and so yummy.
Servings: 12
Prep Time: 15 mins
Cook Time: 35 mins
Average Rating:
Arugula Skirt Steak Salad
A salad of arugula steak and red onion.
Per serve - Energy: 468kcal | Carb: 12.36g | Prot: 30.44g | Fat: 32.64g
Caprese Salad
A simple salad of 4 ingredients.
Per serve - Energy: 119kcal | Carb: 6.38g | Prot: 7.32g | Fat: 6.67g
Spinach & Feta Frittata
Egg frittatas are always a delicious breakfast option.
Per serve - Energy: 68kcal | Carb: 2.30g | Prot: 11.25g | Fat: 0.93g
Cheesy Breakfast Bake
Low carb bake that is perfect for breakfast.
Per serve - Energy: 458kcal | Carb: 3.04g | Prot: 32.05g | Fat: 33.97g
Caprese Portobello
Caprese on grilled portobello.
Per serve - Energy: 286kcal | Carb: 8.25g | Prot: 14.00g | Fat: 20.25g
Quinoa Stuffed Bell Peppers
These stuffed bell peppers will provide the nutrition that you need for a healthy balanced meal.
Per serve - Energy: 242kcal | Carb: 38.66g | Prot: 10.66g | Fat: 6.46g