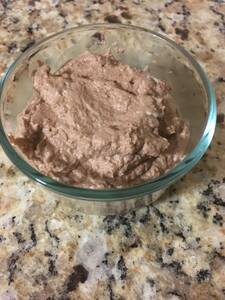 Chocolate Mousse
Low carb mousse.
Servings: 2
Prep Time: 5 mins
Ingredients
Directions
Whip the cream.
In a separate bowl, whip cheese, sweetener and cocoa powder.
Fold in the cocoa mix into whipped cream and chill for 30 minutes before serving.
Nutrition summary
There are 286 calories in 1 serving of Chocolate Mousse.
Calorie split: 91% fat, 4% carbs, 5% protein.
Related Recipe Collections
Related Recipes
Cream Cheese Biscuit
A very low carb breakfast muffin.
Per serve - Energy: 168kcal | Carb: 3.57g | Prot: 9.50g | Fat: 13.47g
New York Cheesecake
A delicious low carb version of a thick cheesecake.
Per serve - Energy: 369kcal | Carb: 4.51g | Prot: 9.00g | Fat: 33.29g
Sausage Frittata II
A tasty hot sausage frittata, perfect for any time of the day.
Per serve - Energy: 270kcal | Carb: 1.79g | Prot: 14.60g | Fat: 21.88g
Ham & Pepperoni Pizza
Low carb pizza that can be topped with your favorite toppings.
Per serve - Energy: 321kcal | Carb: 5.20g | Prot: 23.37g | Fat: 22.46g
Mushroom Quiche
A tasty mushroom quiche perfect breakfast, lunch or even brunch!
Per serve - Energy: 301kcal | Carb: 4.32g | Prot: 12.85g | Fat: 26.23g