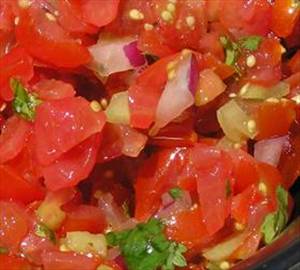 Cilantro Salsa
An awesome easy salsa.
Servings: 3
Prep Time: 10 mins
Average Rating:
Ingredients
Directions
Chop garlic, cilantro, onion and pepper.
Scoop tomatoes from can with fork (save juice for another use).
Mix all ingredients together (except salt) and then add salt to taste.
Enjoy with Melba toasts or something similar.
Note: substitute cilantro from basil and you've got bruschetta.
Nutrition summary
There are 71 calories in 1 serving of Cilantro Salsa.
Calorie split: 4% fat, 82% carbs, 15% protein.
Related Recipe Collections
Related Recipes
Green Tomato Salsa
A delicious salsa made with all fresh ingredients.
Per serve - Energy: 35kcal | Carb: 6.88g | Prot: 1.24g | Fat: 0.26g
Water Chestnut Spinach Dip
A tasty and healthy dip to serve with pumpernickel bread or veggies.
Per serve - Energy: 46kcal | Carb: 7.96g | Prot: 1.30g | Fat: 1.22g
Spinach Vegetable Dip
Spinach dip made with fat free sour cream, bell peppers, garlic and of course, spinach.
Per serve - Energy: 23kcal | Carb: 4.66g | Prot: 1.15g | Fat: 0.10g
Tomato and Mango Salsa
Light and refreshing this mango salsa goes great with everything from low fat cottage cheese to baked pita chips.
Per serve - Energy: 60kcal | Carb: 14.92g | Prot: 1.52g | Fat: 0.41g
Creamy White Bean Dip
Tasty dip that goes great with veggies.
Per serve - Energy: 76kcal | Carb: 11.49g | Prot: 3.77g | Fat: 1.85g
Spicy Salsa
Good for get togethers or just for fun.
Per serve - Energy: 79kcal | Carb: 19.37g | Prot: 3.00g | Fat: 0.75g