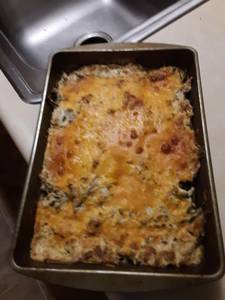 Green Bean Casserole
Low carb version.
Servings: 20
Prep Time: 15 mins
Cook Time: 40 mins
Ingredients
Directions
Slice the mushroom caps and sauté them in butter until softened, put them in a food processor or dice them finely.
Soften the cream cheese and mix with the heavy cream, mushrooms, 1 cup of the cheddar cheese, onion and spices.
Mix with green beans and cover with the remaining cheddar cheese.
Bake at 350 °F (175 °C) for 30-40 minutes.
Serving size is 1/2 cup to a cup.
Nutrition summary
There are 234 calories in 1 serving of Green Bean Casserole.
Calorie split: 79% fat, 8% carbs, 13% protein.
Related Recipe Collections
Related Recipes
Sweet Potato & Carrot Soup
A healthy, savory and filling soup.
Per serve - Energy: 199kcal | Carb: 36.65g | Prot: 5.50g | Fat: 3.93g
Mock Potato Soup II
It looks like and tastes like potato soup, but it's cauliflower.
Per serve - Energy: 221kcal | Carb: 8.70g | Prot: 9.55g | Fat: 17.30g
Sausage Frittata II
A tasty hot sausage frittata, perfect for any time of the day.
Per serve - Energy: 270kcal | Carb: 1.79g | Prot: 14.60g | Fat: 21.88g
Egg and Veggie Casserole
A moist egg casserole with low fat cheeses and vegetables.
Per serve - Energy: 321kcal | Carb: 4.10g | Prot: 27.36g | Fat: 21.25g
Mushroom Quiche
A tasty mushroom quiche perfect breakfast, lunch or even brunch!
Per serve - Energy: 301kcal | Carb: 4.32g | Prot: 12.85g | Fat: 26.23g