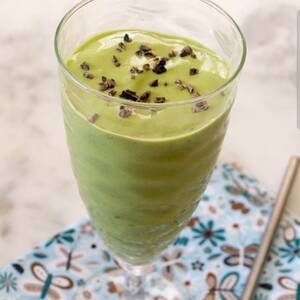 Ingredients
Directions
Place avocado, spinach, protein powder and milk in a blender and blend until smooth.
Add the liquid stevia peppermint drops, extract, and ice, and blend until thick.
Taste and adjust stevia, as needed.
Nutrition summary
There are 326 calories in 1 serving of Healthy Shamrock Shake.
Calorie split: 46% fat, 21% carbs, 33% protein.
Related Recipe Collections
Related Recipes
Tiger Prawn Bruschetta
Tiger prawns with fresh tomatoes and basil, served on a bed of sea weed.
Per serve - Energy: 106kcal | Carb: 3.88g | Prot: 10.84g | Fat: 3.87g
Spinach Smoothie
A healthy green smoothie, a perfect way to kick start the day.
Per serve - Energy: 87kcal | Carb: 19.48g | Prot: 2.43g | Fat: 0.13g
Spinach, Avocado and Pea Salad
A light salad that's perfect with pasta or rice.
Per serve - Energy: 246kcal | Carb: 17.53g | Prot: 8.24g | Fat: 18.55g
Spinach Watermelon Salad
A great way to use watermelon and feta in a salad.
Per serve - Energy: 132kcal | Carb: 14.99g | Prot: 4.10g | Fat: 7.31g