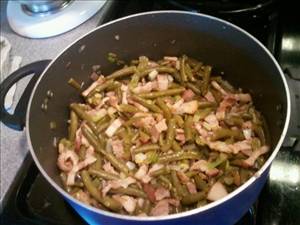 Pepper Bacon Green Beans
Candy-like, green beans.
Servings: 8
Prep Time: 10 mins
Cook Time: 20 mins
Average Rating:
Ingredients
Directions
In a hot skillet, add the chopped pepper bacon.
Stir frequently, until nearly done / crisp, about 2 minutes prior to being done. Drain most of the grease off.
Add the chopped red onion. Stir frequently until onions are turning clear.
Then add the chopped green beans, stir in well and cover for about a minute or two, stir again, and repeat until they are "aldente" or bright green and still a bit of crunch left in them.
Plate them up for a nice, tasty lunch, a great side or even for dinner!
Nutrition summary
There are 88 calories in 1 serving of Pepper Bacon Green Beans.
Calorie split: 64% fat, 24% carbs, 12% protein.
Related Recipe Collections
Related Recipes
Stuffed Jalapenos
Peppers filled with cheese wrapped in bacon.
Per serve - Energy: 111kcal | Carb: 1.08g | Prot: 3.79g | Fat: 10.35g
Quick Quiche
No crust quiche.
Per serve - Energy: 237kcal | Carb: 12.07g | Prot: 14.47g | Fat: 13.95g
Cheeseburger Casserole III
Casserole that uses meat, bacon, eggs, heavy cream and of course cheese.
Per serve - Energy: 816kcal | Carb: 7.33g | Prot: 43.93g | Fat: 68.33g
Spaghetti Squash Casserole
Low carb/keto meal using spaghetti squash.
Per serve - Energy: 504kcal | Carb: 13.15g | Prot: 33.20g | Fat: 34.33g