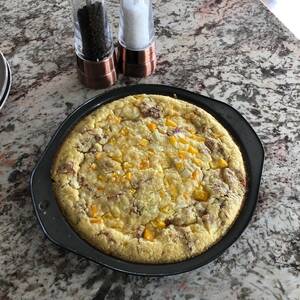 Quick Quiche
No crust quiche.
Servings: 6
Prep Time: 15 mins
Cook Time: 35 mins
Average Rating:
Ingredients
Directions
Cook and crumble bacon. In a 9" greased pie tin layer the bacon and cheese.
Whisk together milk and flour. Whisk in the eggs and then the remaining ingredients. Pour over bacon and cheese.
Bake at 350 °F (175 °C) for 35-40 minutes until set.
Nutrition summary
There are 237 calories in 1 serving of Quick Quiche.
Calorie split: 54% fat, 21% carbs, 25% protein.
Related Recipe Collections
Related Recipes
Bacon Swiss Risotto
Salty, creamy, and delicious.
Per serve - Energy: 506kcal | Carb: 44.25g | Prot: 20.04g | Fat: 26.88g
Ricotta Green Open Omelet
An Italian cheese "quiche" (you won't even miss the crust).
Per serve - Energy: 361kcal | Carb: 21.24g | Prot: 22.94g | Fat: 20.52g
Egg Casserole
Eggs, ham, veggies and cheese make up this yummy casserole.
Per serve - Energy: 177kcal | Carb: 15.16g | Prot: 20.10g | Fat: 2.57g
Chicken & Bacon Veggie Soup
A low carb soup with the deliciousness of chicken and bacon.
Per serve - Energy: 322kcal | Carb: 3.76g | Prot: 15.14g | Fat: 25.23g
Mock Potato Soup II
It looks like and tastes like potato soup, but it's cauliflower.
Per serve - Energy: 221kcal | Carb: 8.70g | Prot: 9.55g | Fat: 17.30g
Sausage Frittata II
A tasty hot sausage frittata, perfect for any time of the day.
Per serve - Energy: 270kcal | Carb: 1.79g | Prot: 14.60g | Fat: 21.88g