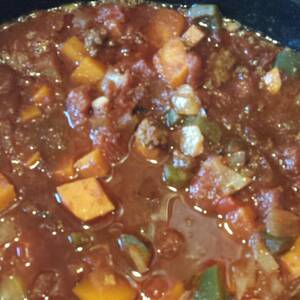 Paleo Crockpot Chili
Simple one pot chili.
Servings: 8
Prep Time: 30 mins
Cook Time: 6 hrs
Ingredients
Directions
Brown beef in skillet with oil.
Put beef in crock pot and stir in vegetables and spices.
Cook on high for 6 hours.
Top with desired garnishes such as sour cream, Greek yogurt, avocado, cilantro, red onion etc...
Nutrition summary
There are 243 calories in 1 serving of Paleo Crockpot Chili.
Calorie split: 40% fat, 36% carbs, 24% protein.
Related Recipe Collections
Related Recipes
Wendy's Copycat Chili
Chili recipe that is just like you get at Wendy's restaurants
Per serve - Energy: 211kcal | Carb: 29.60g | Prot: 16.46g | Fat: 4.12g
Green Chili Cheeseburger
Most fast-food burgers' calories are rising up. This recipe uses a lean and tasty cut of beef, and uses flavor-packed condiments.
Per serve - Energy: 270kcal | Carb: 30.24g | Prot: 17.70g | Fat: 9.38g
Homemade Chili II
Easy to make, low-fat chili.
Per serve - Energy: 302kcal | Carb: 31.51g | Prot: 21.53g | Fat: 10.29g
Stuffed Green Peppers
Delicious hearty peppers stuffed with ground beef, rice, onion and tomatoes.
Per serve - Energy: 293kcal | Carb: 23.55g | Prot: 21.65g | Fat: 12.59g
Beef and Vegetable Stuffed Peppers
Ground beef and vegetables make for excellent South Beach friendly stuffed peppers.
Per serve - Energy: 283kcal | Carb: 11.56g | Prot: 38.41g | Fat: 8.83g
Ground Beef and Zucchini
I put this dish together because I was tired of hamburgers and it was pretty good.
Per serve - Energy: 512kcal | Carb: 25.78g | Prot: 50.34g | Fat: 23.52g