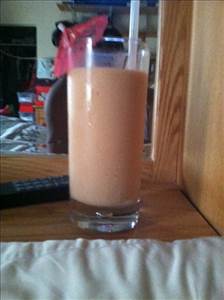 Papaya Shake
Mmmmm good shake.
Servings: 1
Prep Time: 5 mins
Cook Time: 6 mins
Average Rating:
Ingredients
Directions
Blend all ingredients.
Enjoy.
Nutrition summary
There are 340 calories in 1 serving of Papaya Shake.
Calorie split: 15% fat, 71% carbs, 15% protein.
Related Recipe Collections
Related Recipes
Quick Quiche
No crust quiche.
Per serve - Energy: 237kcal | Carb: 12.07g | Prot: 14.47g | Fat: 13.95g
Mac N Cheese
Homemade macaroni and cheese.
Per serve - Energy: 313kcal | Carb: 32.93g | Prot: 14.23g | Fat: 13.55g
Vegan Smoothie
Nice and fruity vegan smoothie.
Per serve - Energy: 103kcal | Carb: 17.46g | Prot: 3.03g | Fat: 3.45g
Double Orange Pork Chops
Pan fried pork chops in orange glaze.
Per serve - Energy: 567kcal | Carb: 23.57g | Prot: 55.07g | Fat: 27.04g