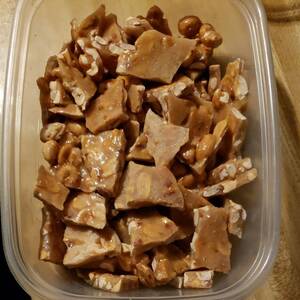 Microwave Peanut Brittle
Yummy and sweet.
Servings: 18
Prep Time: 3 mins
Cook Time: 10 mins
Ingredients
Directions
Mix with a spatula the peanuts, sugar, and syrup together in a large glass bowl.
Microwave 4 minutes, mix, and microwave 4 minutes more.
Add butter and vanilla and mix.
Microwave 1 minute.
Mix in baking powder.
Quickly move mix on to a greased cookie sheet using the spatula and spread to one peanut thick.
Cool completely, break into pieces and store in an airtight container.
Nutrition summary
There are 141 calories in 1 serving of Microwave Peanut Brittle.
Calorie split: 35% fat, 59% carbs, 6% protein.
Related Recipe Collections
Related Recipes
Macaroni & Cheese
Comfort food never tasted this good and without the extra calories.
Per serve - Energy: 291kcal | Carb: 35.87g | Prot: 14.16g | Fat: 9.78g
Jelly & Cream Dessert
A lovely carb friendly dessert that is easy to make and so nice!
Per serve - Energy: 141kcal | Carb: 8.42g | Prot: 1.95g | Fat: 12.40g
Jell-O Yogurt
Great tasting yogurt recipe that works well for South Beach.
Per serve - Energy: 156kcal | Carb: 21.10g | Prot: 12.91g | Fat: 3.52g
Low Fat Yogurt with Banana
Sweet and wholesome. Works well for breakfast, dessert or as a sweet treat.
Per serve - Energy: 248kcal | Carb: 42.93g | Prot: 13.21g | Fat: 3.91g
Almost Cheesecake
Grahm cracker topped with fat free strawberry cream cheese fresh blueberries and drizzle of honey.
Per serve - Energy: 158kcal | Carb: 31.66g | Prot: 5.22g | Fat: 1.84g