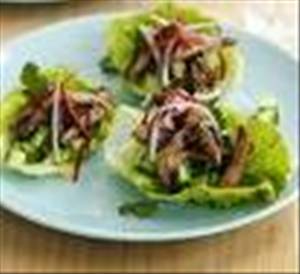 Moo Shu Beef Lettuce Cups
Tasty little bites
Servings: 1
Prep Time: 5 mins
Cook Time: 15 mins
Average Rating:
Asian Chicken Salad
Asian inspired chicken salad that you can also wrap in fresh lettuce.
Per serve - Energy: 221kcal | Carb: 29.47g | Prot: 17.98g | Fat: 4.51g
Soy-Ginger Chicken Breast
A fantastic low calorie succulent chicken dish.
Per serve - Energy: 206kcal | Carb: 9.73g | Prot: 30.95g | Fat: 4.97g
Salmon with Mixed Salad
A good way to use leftover grilled salmon.
Per serve - Energy: 200kcal | Carb: 6.41g | Prot: 25.09g | Fat: 7.65g
Crockpot Black Beans
Easy black bean recipe to serve over rice or as a side with chicken or sausage.
Per serve - Energy: 216kcal | Carb: 36.94g | Prot: 11.06g | Fat: 3.71g
Bruschetta
A traditional topping of roma tomatoes, fresh basil and extra-virgin olive oil. Served with toasted ciabatta bread.
Per serve - Energy: 214kcal | Carb: 34.38g | Prot: 6.23g | Fat: 5.68g
Guacamole II
Traditional guacamole that's low in sodium but with a high potassium content.
Per serve - Energy: 177kcal | Carb: 12.32g | Prot: 2.62g | Fat: 14.86g