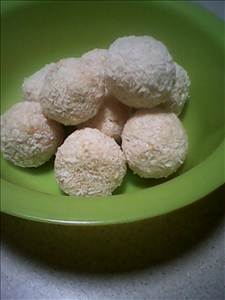 Apricot Coconut Balls
A sweet uncooked treat.
Servings: 20
Prep Time: 15 mins
Average Rating:
Ingredients
Directions
Put apricots, skim milk powder, almond meal, half the coconut and water in food processor.
Take teaspoons of the mixture and roll in the remaining coconut.
Store in fridge or freezer.
Nutrition summary
There are 34 calories in 1 serving of Apricot Coconut Balls.
Calorie split: 51% fat, 36% carbs, 13% protein.
Related Recipe Collections
Related Recipes
Standard Overnight Oats
Make ahead breakfast with walnuts, pecans and cranberries.
Per serve - Energy: 413kcal | Carb: 50.05g | Prot: 9.97g | Fat: 21.23g
Breakfast Bars
Oatmeal, protein and berries.
Per serve - Energy: 97kcal | Carb: 14.03g | Prot: 7.00g | Fat: 1.34g
Healthy Shamrock Shake
A low carb version of your favorite McDonald's shake.
Per serve - Energy: 326kcal | Carb: 18.58g | Prot: 29.51g | Fat: 17.99g
Salmon Cobb Salad
Fish makes this super easy cobb salad.
Per serve - Energy: 334kcal | Carb: 9.32g | Prot: 31.60g | Fat: 18.91g
Breakfast Smoothie IV
Smoothie with matcha, strawberry, pineapple, spinach and mango.
Per serve - Energy: 280kcal | Carb: 63.23g | Prot: 11.06g | Fat: 0.00g