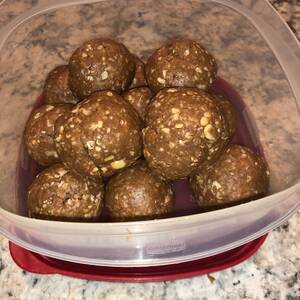 Chocolate Peanut Butter Protein Balls
Healthy protein balls.
Servings: 13
Prep Time: 15 mins
Baked Oatmeal
A family favorite and healthy way to add oatmeal to your diet.
Per serve - Energy: 363kcal | Carb: 62.62g | Prot: 16.83g | Fat: 5.51g
Apple and Coconut Muesli
A terrific combo of oats, nuts, honey, apples, coconut, wheat germ and yogurt to get your day kick started.
Per serve - Energy: 199kcal | Carb: 31.16g | Prot: 7.69g | Fat: 5.62g
Apple Walnut Oatmeal
Whole rolled oats, apple juice and raisins.
Per serve - Energy: 305kcal | Carb: 42.61g | Prot: 9.43g | Fat: 12.56g
Crock Pot Oatmeal
Apple, raisin and cinnamon oatmeal made in a crock pot.
Per serve - Energy: 196kcal | Carb: 40.32g | Prot: 5.93g | Fat: 2.29g
Spiced Hominy
A heavenly hominy recipe that's healthy and tastes very good.
Per serve - Energy: 237kcal | Carb: 48.36g | Prot: 6.04g | Fat: 1.93g
Berry Yogurt Muesli
Great breakfast and snack yogurt.
Per serve - Energy: 192kcal | Carb: 35.24g | Prot: 10.27g | Fat: 2.09g